Tshirt- Rag & Bone | boyfriend jeans- Gap | bag- Rebecca Minkoff | necklace- Ily Couture | bracelets c/o Forever 21 | ring- Saint Laurent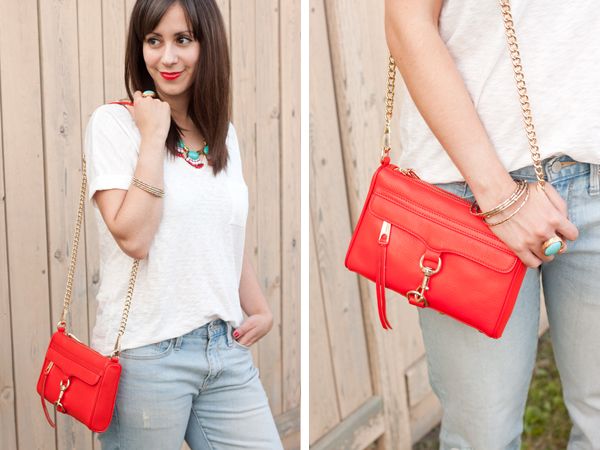 A
s you can probably tell, I'm a bit of a bag fanatic... Even though I've spent the better part of this year cheating on bags with shoes, they still have my true, undying love. So I guess in an attempt to make up for lost time or whatever, I've been going a little crazy in the purse department lately (
exhibit A
). But you know what? If loving bags is wrong, then I don't want to be right... So with that said, allow me to introduce one of the newest apples of my eye — man, how many cliches can a person squeeze into one post?!
Anyway, I've wanted a
Rebecca Minkoff Mini Mac
since time immemorial, but just somehow never got around to getting one until I peeped it in fire engine red... The minute I saw this colour (seriously though, can you say
va va voom
?), it was as good as mine. The leather is buttery soft and it fits just the right amount of goodies, making this little beauty and I fast friends... Is that a healthy way of looking at material goods? Oh who can really say.
Thanks for reading friends, and happy Wardrobe Wednesday to you all! xx