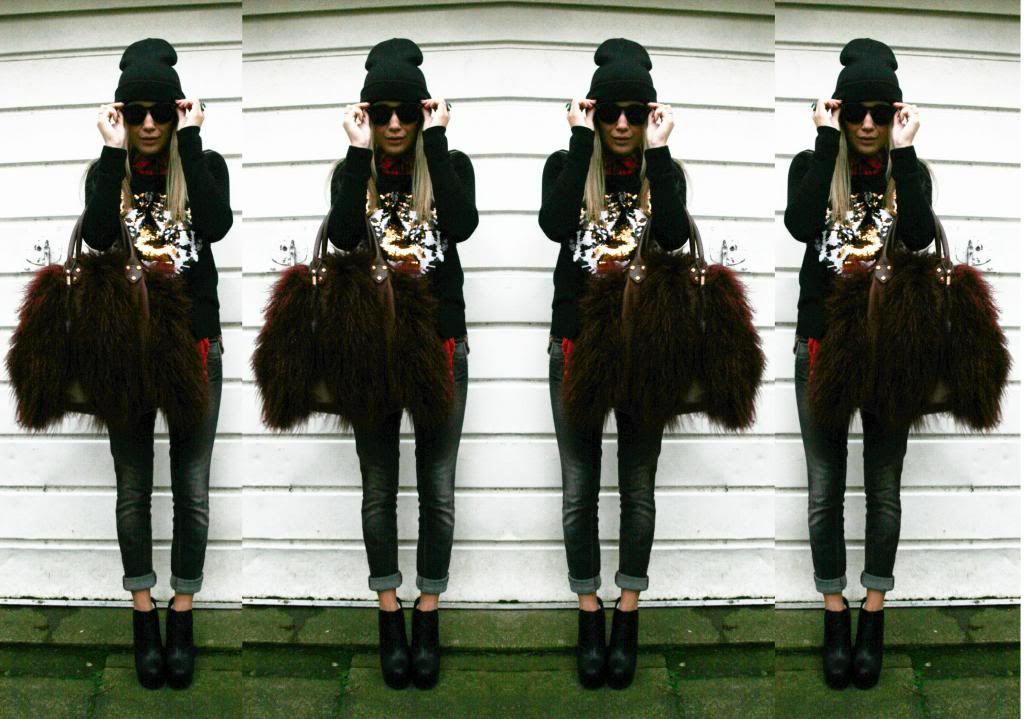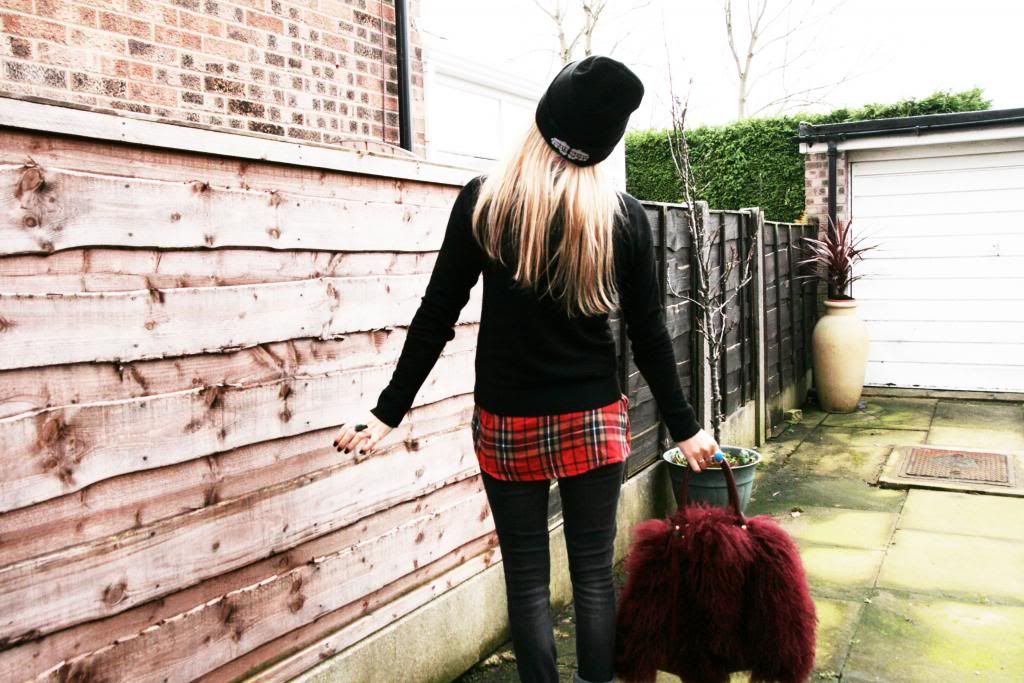 (hat c/o EDUCATEELEVATE, sunglasses from Korea, plaid shirt Topshop, jumper c/o Fashion union, jeans c/o Benetton, shoes c/o meemee.com, sheepskin bag old)
OK, so I know that at the moment my blog mainly consists of me apologising for the lack/lateness of posts. But I'm sorry again. My life went a bit mental for a few weeks and I was actually considering quitting the blogging game all together..... so I gave myself a good talking to, ate some cake and got my shit together and here I am ready to blog another day. I promise that this will all be back to normal over Christmas as I'll have more time and I already have some lovely stuff to show you guys :)
Anyways.... back to what I'm actually here to ramble on about. First of all I'd like to say thanks to
Educateelevate
for my lovely parcel of winter warmers, this hat hasn't been off my head and I actually have a few other outfits shot with it to give you some styling ideas. A good beanie is defo my winter must-have, streetwear and workwear brands work really well with casual high street pieces and it reminds me of all the amazingly well dressed girls I perv on when I'm in Tokyo. I wore it back wards on this outfit just to give a bit of detail to my be-hind! The sequin tiger jumper from
Fashion Union
is the perfect alternative to a jazzy Christmas jumper (plus I cant afford a Kenzo sweatshirt right now) and the boots are my absolute favourites for winter. Get yours
HERE
these platform chelsea boots from
Meemee
are SO comfy and literally go with everything which makes them an easy option to throw on when you're panicking over the party season, PLUS theyre a bargain £37!
The jeans from
Benetton
are from the Pin-up collection and are pretty special as they shape and tone you in all the right places, a post on the magic of these bad boys is coming soon.... when I actually get time to sit down and give you guys some attention!
Lots of love
Penny
xo
P.S Did I mention IT'S NEARLY CHRISTMAS?